"RISTORANTE VECCHIA MALCESINE: certainty, solidity, security. The dishes which have contributed to our identity and which represent the excellence of the region around Garda. The avant-garde history of our restaurant. Authenticity, refuge, and comfort will never be lacking at the Vecchia Malcesine."
The spectacular setting of Lake Garda frames the Michelin-starred restaurant of Leandro Luppi, chef of the Vecchia Malcesine. The restaurant is in a secluded location at the top of a steep cobblestone road and features a veranda with breathtaking views.
Chef Luppi, with his South Tyrol roots, has an intense and exuberant allure. He describes himself as a man "of bold choices and little nuance", and such are his dishes as well.
With raw ingredients obtained locally, chiefly from the town, he offers two culinary choices: one for those who love tradition, and one for those who want to take a risk. He definitely takes risks.
Chef Luppi, you talk about two menus: cards face up and cards face down. Why and what does this mean?
I don't like half measures and my menus reflect this idiosyncrasy of mine. There are those who, when they're at the table, want comfort and validation. It's the certainty of tradition, of ancient flavours, of discovering a place's identity over and over again.
For them the menu is like a hand of cards face up, even though the pleasure of the flavours that they find in our dishes is always guaranteed. Others, however, prefer the unpredictable, the unknown, something new in every sense.
We offer them the cards face down: new dishes in which they'll find the unexpected and, pardon the term, will be able to push their limits. The final impact is surprising.
So, essentially, your cuisine has two spirits.
I'd say that it has two approaches: the one considered traditional, or rather comfort food in the comfort zone, though always interpreted with our own vision; and the one known as R-Evolution which, as I mentioned, offers a menu with dishes that seek to surprise the mind, the palate, the stomach, and the heart.
Another characteristic of our kitchen is that the menu deviates from the classic categories (meaning appetizer, first course, and second course) and develops into a meal with dishes that are served in an almost random sequence.
Will you experiment with new trends in the immediate future?
We'll continue along our path, which is certainly already original. We have a varied menu that, rather than follow the trends, aims to get outside of the box. I like the idea that my restaurant is viewed in this way, like a place to return to, deciding whether to re-experience a certain emotion or try an entirely different one. We have such a wide variety or raw ingredients, that everything is possible.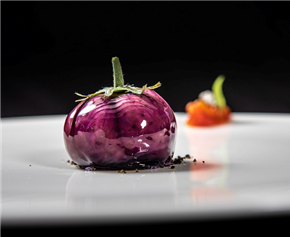 According to which criteria do you choose them?
Our selection criteria are as simple as they are inflexible: quality at the right price and as much as possible from local suppliers, especially with regard to the raw ingredients. Fresh water fish is the star of our menu, it can't be missing.
As for the rest, I like to think that I work not with a single ingredient, but with the entire region, in the most profound and absolute sense of the word. In the kitchen, we interpret the reality all around us and offer it in a dish.
Between art and philosophy?
(Smiles) If I had to define my cooking style, I'd say that it does, effectively, play with these two worlds. It's definitely fun, because I love to surprise people. It's definitely delicious, as those who come to the restaurant are looking in particular for their sense of taste to be aroused. But it's also mental, because the mind is what stimulates and tantalizes the senses.
How important is equipment to you?
For years now, equipment has been becoming enormously helpful in our work. Nevertheless, given that it must serve the chef and not vice versa, it's useful but not essential. It's a condition. Or rather, without a serious thought about cooking, technology serves only to surprise with its technique.
What do you see for the future of the restaurant industry?
I believe that such an epic change, like the one we're witnessing as a result of these two years of Covid, has accelerated by a decade that which I see as the future of our category: there will be an ever growing divide between restaurants for service, like work lunches at any level, and restaurants for pleasure. Of course the differences will also have to do with quality.