"PERSONAL CHEF STEFANO RIVA: Dinner has every prerequisite for being a success, " whether it be for business or pleasure."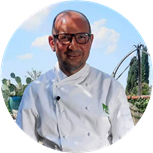 Like a restaurant, but at home: impeccable mise en place, a chef-approved menu, select culinary ingredients, and the joy of astounding your guests. Whether it be for business or pleasure, with personal chef Stefano Riva dinner is a success. Every detail is meticulously curated, but the most important aspect remains the relationship with the client, who becomes the protagonist of a tailored "culinary experience".
But that's not all: Stefano Riva also offers cooking classes, company consultations, and team building initiatives, because re-enforcing professional relationships while challenging oneself in the preparation of a dish or a menu is an excellent way to rediscover that team spirit which may have gotten lost in the routine and the bustle.
Whether cooking at home or at the company, Riva has some fundamental principles from which he never deviates, as well as a vision of the near future. He talked to us about them in this interview.
Chef Riva, you don't have one kitchen, but rather thousands. What is your fundamental approach?
My approach to food is based on classic regional cuisine, but lighter, with revised forms and aesthetics and a profound respect for flavour. It's a cuisine that begins with the maniacal selection of raw ingredients, which must be of superb quality, and which culminates in a profound respect for their preparation, with the objective of fully exalting their flavour.
I don't believe in "Km 0", but rather in "the right mile", whether this be around the corner or 10, 100, 1000, or 10,000 kilometres away.
What trends will we see in the kitchen in the coming year? What would you put your money on if you had to make a bet?
First of all, after a slow start, personal chefs are becoming more popular in Italy. There are many reasons for this, from a need for comfort, to a desire for very high quality raw ingredients, and even a longing for safety and intimacy.
These will be in increasing demand in the restaurant industry, where it will be necessary to adequately convey the use of agricultural products, sustainable livestock farming, and artisan pasta and cheese makers. Sustainability continues to be a strong trend, that much is clear.
According to what criteria do you select your suppliers, in terms of both raw ingredients and equipment?
Even before the selection process, there's much word of mouth among colleagues. Then I evaluate the quality of the products and the reliability and punctuality of deliveries and processes. A personal chef must go the client with everything that he or she needs in order to provide the service.
That's why punctuality is so important. The ability to quickly solve problems is also essential. Ultimately, when the professional relationship is fruitful, it strengthens and becomes one based on mutual trust.
In terms of equipment and technology, how is the market changing?
Digitalization is becoming more and more important. From the management of reservations to collecting clients' personal information and from the smart search for feedback to technology in the dining room and intelligent equipment that allows the floor staff and the kitchen to communicate with one another. In the food service sector, I think it's a good idea to introduce technology anywhere that it can help people.
How do you see the future of the restaurant industry?
There will be many different kinds of food service. Fine dining will increasingly distance itself from the mass market, but will need to embrace new trends in agriculture and products that are based in tradition and in the techniques of the recent past. People will be drawn to this by their curiosity and the media.
Ordinary restaurants, on the other hand, will become increasingly standardized, with more and more cuisine based on successful trends, popular products, and international tastes. It will be a cuisine characterized by packaged products, ready to be regenerated and served. Here the professionalism of the workers won't be as fundamental to success.
Can you sum up the essence of your cooking style in four words?
Of course: research, because one must never settle. Respect, because it's the client who is the true protagonist of his or her event. Personality, because the value of my work lies in its uniqueness. And finally, passion, because without that we aren't chefs, but simply "people who cook". And there's a big difference.