"Dattilo restaurant was born out of an old mill in a 1600's farmhouse, surrounded by vineyards, olive and citrus groves, and the Ceraudo Roberto farm's garden. It illustrates a typical rural architecture as well as a simple and refined design, in a homely environment that nicely combines with the variety and creativity of the menu."
Since 2012, Chef Caterina Ceraudo, born in 1987, has been leading the kitchen of Dattilo (one Michelin green star), located within the Ceraudo farm, owned by the family since 1973. Shy, but tenacious and with an iron will, she focuses on authentic cuisine. "For me, the most important tenet is the respect for food and its natural origins, from the birth and growth of each ingredient, all the way to its transformation on the plate."
A Michelin-starred restaurant in an old olive oil mill within a 17th century farmstead surrounded by vineyards, olive and orange groves, and the farm's vegetable garden. Chef Ceraudo works in harmony with the territory, focusing on sustainability and trusting in the outstanding quality of her region.
"I've created a careful and responsible supply chain," she explains, "choosing suppliers that promote organic and sustainable agriculture. I use ingredients from my region, from Calabria, which is full of fantastic raw materials. My menu includes completely vegetarian options which are rich in flavour, but also represent a perfectly sustainable choice. Many of the ingredients in my kitchen come directly from the Ceraudo farm, which boasts a production of oranges, tangerines, figs, summer pears, and apricots, plus the produce from the vegetable garden."
It's with this enormous passion, which emerged in 2006 upon return from her school holidays, when she began to oversee Dattilo's wine list, that Chef Ceraudo's menu revolves around a selection of traditional, yet contemporary, dishes, in which experimentation with consistencies, temperatures, and pairings combine perfectly with typical ingredients and recipes: "We must never forget that the most important thing in any recipe is the quality of the raw materials. Today more than ever, people want authenticity, so these new trends must also somehow respect clients' expectations."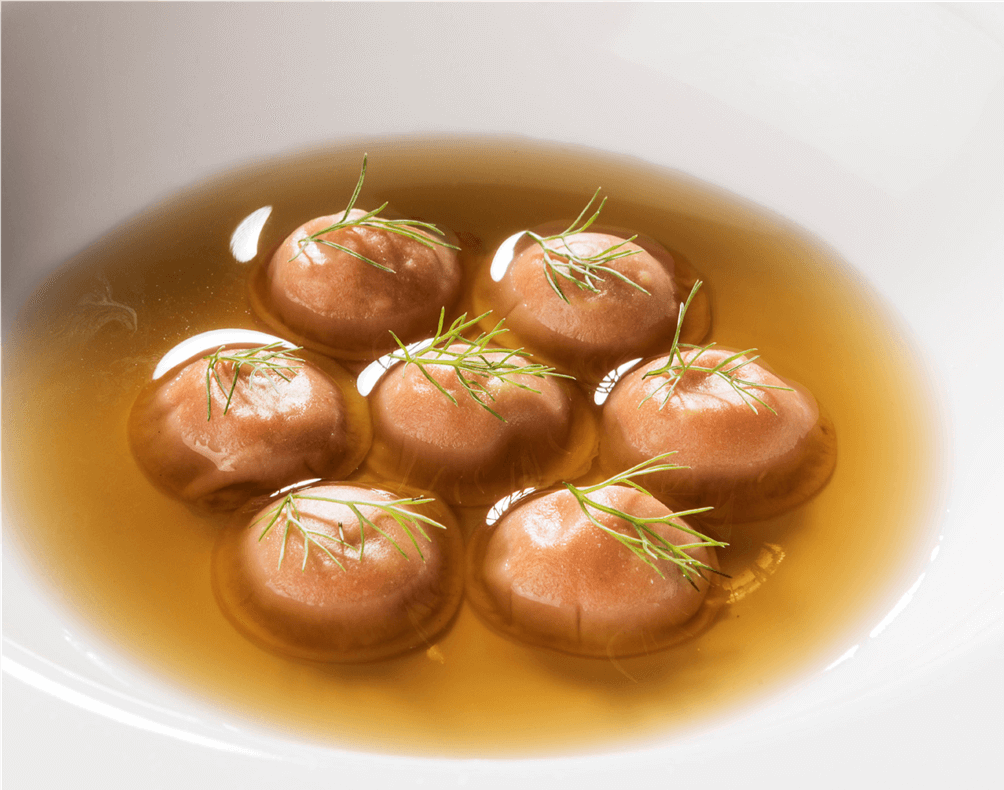 And while in Calabria her menu could be considered unconventional, it's actually perfectly balanced throughout the supply chain. "When we choose a supplier," she says, "we select people and products with histories that are similar to our own and who share our same values: quality, authenticity, passion, and respect.
This last in the broadest sense of the term. Respect for the product, for the raw materials, for the land, and for the labour. Furthermore, the process of researching the raw materials that I use in my kitchen is my way of conveying the stories of the people who seek perfection through the promotion of common ethical values."
Respect, in every sense, is a key word, one which governs every choice at Dattilo, a mindset which can also be credited to the Accademia Niko Romito (a higher education and specialization school dedicated to catering and haute cuisine) located in Castel di Sangro in Abruzzo.
In fact, it was from Niko that Ceraudo acquired a respect for food and its natural origins, from the birth and growth of each ingredient, all the way to its transformation on the plate, with cooking techniques that maintain, unaltered, the characteristics of the raw materials, from appetizers to desserts, for a flawless experience: "Fine cuisine must be accessible to everyone, with an experience that focuses on the client. I've always believed in sustainability and in a no-waste cooking style that exalts raw materials and respects the rhythm of nature and the seasons."
This attentiveness has earned Ceraudo the title of Female Chef of the Year twice, the first time in 2016 according to Identità Golose and the second time in 2017, for the Michelin Guide.
When it comes to technology, Chef Ceraudo has no doubts: it's incredibly important in a kitchen as it makes it possible to "safeguard both the raw materials and the client and, above all, is enormously helpful from a practical standpoint. In fact, technology allows us to perfectly plan the use of raw materials and facilitates the manual tasks of the kitchen staff, while also ensuring that the quality of the foods is maintained. However it's important to be aware that this doesn't mean distancing oneself from tradition or from the artisan quality of recipes, because it's fundamental that these two aspects coincide and keep pace with one another."
Ceraudo predicts that safety will be one of the trending topics of the near future. "I believe," she concludes, "that it will be one of the most important things that guests look for in the coming year. Clients will certainly pay more attention to high quality restaurants, but quality isn't only about raw materials. While this is clearly implied, clients will pay more attention to structures that focus on every aspect of client wellness."