by Tanja Neumann
"The belly of the ship is bustling with activity. Marco Refrigeri, Food & Beverage Director of Costa Crociere, takes us behind the closed doors that are otherwise closed to guests on board – unless you book one of the coveted, limited tours. We dive deeper behind the scenes of Costa Crociere. Many doors open, paths cross. In front of me lies a world that resembles a labyrinth." 
What makes the pâtisserie on the world's oceans with Costa Cruises so unique and excellent? A Sicilian, a good team, Italian passion, skill, brilliant creativity and good ingredients! What is behind it in detail? Let's take a look behind the scenes of the Costa Toscana galley and dive into the world that you rarely get to see as a normal passenger.
The belly of the ship is bustling with activity. Marco Refrigeri, Food & Beverage Director of Costa Crociere, takes us behind the closed doors that are otherwise closed to guests on board – unless you book one of the coveted, limited tours. We dive deeper behind the scenes of Costa Crociere. Many doors open, paths cross. In front of me lies a world that resembles a labyrinth.
Riccardo Bellaera revolutionises dessert cuisine on cruises
On board the Toscana, Costa's flagship, the "Chocolateweek" event is currently taking place: World-class pâtisserie and chocolate art meets Mediterranean star cuisine. Costa Cruises and the Chocolate Academy by Barry Callebaut are presenting a week of gourmet highlights with extraordinary taste experiences. You can read more about the culinary details in a forthcoming article. Today I'm taking you to the sweet creative kitchen on board Costa Cruises. This is where Riccardo Bellaera conjures up his desserts and cakes, each of which are little works of art in their own right and offer incredible interplay of flavours. What he conceives is haute pâtisserie!
But it's not just about taste and beautiful cupcakes. The maestro has been Corporate Pastry & Bakery Chef for the entire Costa fleet since 2012. He has revolutionised dessert cuisine on the high seas and has won several awards for it. On board many cruise ships, excellent gourmet cuisine is offered, but dessert often remains the poor relation on the menus. The Italian cruise line takes a different approach: With the World Pastry Star Bellaera, Costa is taking a different approach to pastry and more than lives up to its Italian reputation of "Dolce Italia" and "Italy`s finest".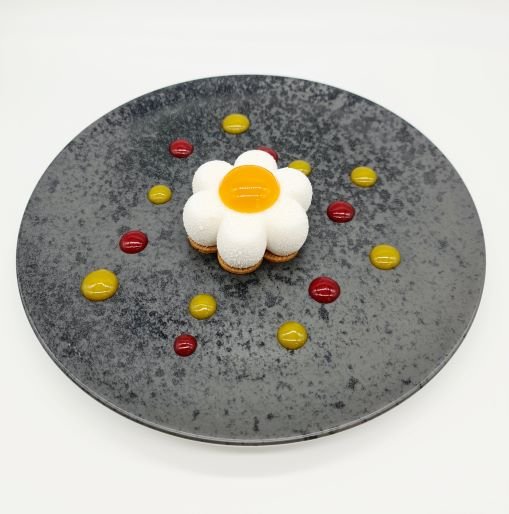 12,000 desserts are produced daily in the floating kitchen
Around 12,000 desserts leave the galley, as the pâtisserie kitchen is also called on board, on all Costa ships every day. Do the mass market and the pastry shop go together after all? With a mind like Bellaera's, they can. On ten ships around the world, several thousand guests want to be pampered with desserts every day while travelling.
The production of the desserts is to be standardised and at the same time implemented at the highest culinary level. This requires a dedicated team, the best ingredients, planning know-how and, above all, a mind like Bellaera. With his skill and creativity, he trains and leads more than 440 employees (220 pastry staff, 160 in the bakery and 60 in the pizzeria). The result is desserts and cakes that are second to none in terms of aesthetics and taste.
"Pastry is precision, ingenuity and creativity to the point of being an art form". – Maestro Ricardo Bellaera –
Training is an important issue for Riccardo Bellaera and Costa
Riccardo Bellaera is a globetrotting baker and pastry chef. He usually changes ships every two to three weeks to train his several hundred employees to create the basis for standard, high-level productions for all Costa cruise ships. The training is multi-layered and international. Everything is done in English. The staff crew of the pastry kitchen on board the Toscana alone comprises around 25 employees – and that's just for the dessert kitchen.
The pastry kitchen teaches raw material science and a wide variety of process techniques. Bellaera's knowledge transfer at sea is no different than on land. But the decisive factor is that he always trains his team in innovations and food trends. Staff training is a high priority for the maestro. Quality comes before quantity. Creativity is very important, Riccardo tells me, but that alone is not enough. His team must be able to combine authentic flavours and innovative methods. A balance between tradition and innovation must be found for the maestro.
There is also a training centre on land: in Villa Figoli, where the Merchant Marine Academy is located, Costa Crociere runs training courses for young people who have just graduated from hotel management school and want to pursue a career on board. These courses last between six months and two years and also include internships on board.
On a shelf I discover Riccardo's recipe treasures. He lets us take a look at his books, filled to the brim with recipes and instructions – all developed by the creative mind of Bellaera! But not everything has been invented yet. Many ideas are buzzing through the Sicilian's head, waiting to be tested and implemented, he tells me, bubbling over with new ideas. But for the maestro, being Corporate Pastry & Bakery Bravo Chef! Chef for the entire Costa fleet also means organising events such as the current Chocolateweek or the famous Panettone event. You don't seem to get bored in your job.
As we walk through his galley, he has a view of the pastry kitchen everywhere. At the same time, he answers our questions, lets us try a warm pastry and keeps an eye on the work of his staff in the dessert kitchen for me, as if in passing. We walk on through a very clean, shimmering silver laboratory. Work is going on everywhere.
Like an orchestra conductor, Bellaera manages his team, not missing a thing. With an eye on the evening's dessert, he kindly corrects a co-worker in the design to move the decoration slightly one centimetre to the left. Riccardo is a perfectionist. I sense energy and composure in the maestro's demeanour in front of his team, combined with a mischievous twinkle in his eye.
"The most important goal of the pastry chef is always to promote tradition through creativity and to ensure that an excellent product is created using high-quality raw materials and the most modern production methods. A good pastry chef masters the material and is not dominated by it". – Maestro Ricardo Bellaera –
Best ingredients and state-of-the-art equipment in the galley
Riccardo Bellaera is uncompromising when it comes to the quality and choice of ingredients. The maestro makes us understand this with emphasis and a stern look during our tour of the galley: "Good ingredients are the basis of good desserts!" Thus, the World Pastry Star has been working for years with companies like Agrimontana and the Belgian chocolate company Callebaut, as well as with institutions like the Chocolate Academy. Recently, Riccardo Bellaera also received the Academy's award from Alberto Simionato at Chocolateweek for this: "For his commitment to spreading the excellent quality and culture of chocolate in Italy and throughout the world".
The pastry kitchen's furnishings and ideas for the machines were entirely designed by the maestro. The almost 50-year-old knows the machines that are used all over the world and has had the latest generation of technology implemented in the flagship Costa Toscana. Some of the machines on board the Costa Toscana were recommended to Riccardo Bellaera by Maestro Iginio Massari, the master of masters in Italy. Maestro Massari is Riccardo's teacher and master. He has encouraged and shaped his skills. The two men are united by their love and passion for pâtisserie – but above all by deep friendship!
There are several Robogbos that Bellaera has selected to speed up processes for making creams and jellies while ensuring the highest qualities. Every year, 90 tonnes of dark chocolate are consumed on Costa cruise ships. In addition, there is white and gold chocolate, as well as the latest trend: Ruby Chocolate. In order to be effective in dessert production and also to avoid waste, the galley of the Costa Toscana thanks to Bellaera works with state-of-the-art machines such as the Selmi One, which can melt the chocolate quickly and maintain a constant temperature. Riccardo proudly presents us with his "favourite toy", the Chef Cut, at the end of our tour of his kingdom.
Cake is being cut precisely right now; it doesn't get any more perfect than this. By using high-pressure water, the machine could even cut steel like a laser. Here it is enough to portion special cakes or cut chocolate into puzzles or create mouldable textures, such as punching out texts in chocolate. There are no limits to cuts and decorations. This is very convenient for the innovative maestro with his inexhaustible wealth of ideas – and for us as passengers on the Costa Toscana as well: because this way we can enjoy unusual world-class desserts with the best ingredients and ravishing taste experiences…