Interview for Horeca International Olivier-Hicham Allard – Exhibition Director
What is SIEL-HORECA Expo? What are its medium and long-term objectives?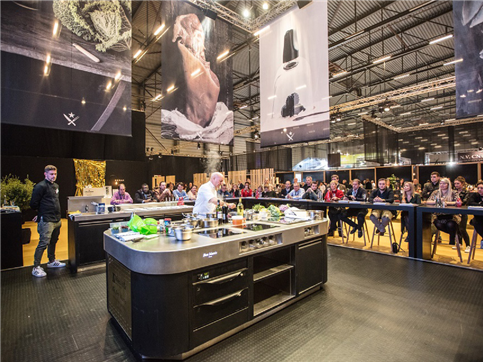 SIEL-HORECA is the International Exhibition of Equipment and Services for Hotels, Restaurants and Communities. This platform brings together in one place a large number of exhibitors who provide all the products and services that hotel, restaurant and community owners need to run their business or to expand it.
This exhibition divided into 6 universes: (Design & Hospitality, Kitchen Equipment, Food & Beverage, Technologies & Infrastructures, Wellness & Sports, Services & Franchises ). Through these 6 universes we cover the different fields that will allow Algeria to considerably accelerate the rise in quantity and quality of its tourism and leisure infrastructures in general.
Who is Easyfairs? What have you accomplished in Algeria?
Easyfairs is a Belgian organizer of trade fairs and exhibitions that is present in 17 countries including Algeria. The company organizes more than 200 exhibitions per year in 27 different sectors and also manages 10 exhibition parks in Belgium, the Netherlands and Sweden.
In Algeria, EASYFAIRS collaborates with SARL MEDITHERAL, a company under Algerian law, exclusive partner of EASYFAIRS for 5 years now, and organizes 6 trade fairs with very high added value for the Algerian economy, namely MAGHREB PHARMA (pharmaceutical production technologies), DENTEX (dental equipment), SECURA (safety and security), MAINTENANCE PUMPS & VALVES (industrial maintenance and fluid and gas processes),POULTRY (Poultry Sector) and now HORECA EXPO Algeria which is the result of the resumption of the former exhibition known as SIEL.
Why did Easyfairs acquire SIEL?
After 14 years of existence, the SIEL exhibition had to face the economic situation of the year 2019 which strongly impacted its organization and its capacity to grow. We agreed with its former owner to take over the SIEL and give it a new lease of life for a very simple reason: Easyfairs already organizes 4 shows on the same theme in Belgium, the Netherlands, Sweden, and Finland.
To give you an idea of the size of the show, our HORECA Belgium show, which targets the Belgian market (11 million inhabitants), occupies more than 40,000 m2 of gross exhibition space for over 600 exhibitors. In Algeria, the SIEL targeting the Algerian market (44 million inhabitants) gathers every year 90 exhibitors on 5000 m2.
We are convinced that we can give its true dimension to HORECA Expo Algeria and especially contribute to the development of some amazing hotel and restaurant infrastructures in Algeria in order to make the country enter the big league in terms of tourism but also, more directly, in terms of offering places of leisure and catering for its 44 million inhabitants population who is only asking for a better offer and better infrastructures.
What changes will Easyfairs bring to the SIEL?
(Compared to previous editions) This may sound a bit crude but the first change we will make is to invest financially in the show to give it the scale it deserves. Communicating on a national and international scale requires substantial budgets that we are willing to invest in order to put the show on the world map. So, a big marketing investment.
Secondly, we are going to invest commercially to make the show grow, several fulltime employees will work exclusively on marketing the event to Algerian and international exhibitors. Then, it may seem simple, but until now there has been no system for registering visitors to access the SIEL.
The first thing we are going to implement is an online registration system for SIEL HORECA visitors, who will have to register and will receive a name badge to access the show. This detail is of major importance for our exhibitors who will be able to know who they are addressing and in what capacity.
Moreover, the creation of these databases will allow us to optimize our communication strategy to keep in touch with our Algerian hotel and restaurant community. Also, you should know that Easyfairs is recognized worldwide as one of the most technologically advanced organizers, as we have tools that allow exhibitors to scan visitors' badges with their smartphones in order to extract all the visitor's information (their complete business card) and to create their own customer database in an extremely simplified way.
Our tools also allow exhibitors to invite their visitors online thanks to personalized links and to be informed in real time by SMS when the visitor arrives at the show entrance, to welcome them spontaneously and as they should be.
Finally, the websites of our trade fairs are real virtual trade fairs on which exhibitors can upload their products, their company details, job offers, innovations and a contact form, which allows visitors to save a lot of time before the trade fair by doing research in advance and making appointments in advance. In general, we optimize the time invested for visitors and rapidly grow our exhibitors' database and thus their potential return on investment.
What impact will SIEL-HORECA have on the ecosystem?
Each time we have launched a trade show in Algeria, the first exhibitors who trusted us have seen their market share grow significantly because they realize that we have a striking force in terms of communication and marketing which allows us to bring together many principals in the same place.
Moreover, by increasing the number of exhibitors, we open the market, bring more business to one place, and make the market competitive and transparent, in the interest of all national economic operators. For our visitors, our slogan is "Visit the future".
This is not a weak word, our mission is to make sure that visitors to our fairs, when they spend a day or two visiting the fair, have seen the future of what their profession will be and are excited about the possibilities of improvement and innovation.
This is also the reason why we always try to organize attractive free access conferences so that our visitors can learn about the latest technical, regulatory or market developments in Algeria.
How is the events sector in Algeria currently doing? In your opinion, what changes are expected after this crisis?
It's no secret that the events sector is, by its very nature, the sector that has been hit the hardest by this pandemic. Thousands of trade fairs have been cancelled all over the world as well as in Algeria. However, the good news is that Algeria, has authorized the resumption of fairs and exhibitions with a list of constraints to ensure the safety of visitors and exhibitors.
We are perfectly willing to take up this challenge while guaranteeing the safety of all our visitors and exhibitors, you should know that Easyfairs is the only show organizer in the world that has partnered with SGS, the world's leading standards certification company, to have its anti-covid19 safety protocol validated and we even have SGS engineers audit our shows virtually the day before we open and take them through the entire show via video conference where they ask us to show them every corner, check the signs, the hydro-alcohol gel stations, the measures to ensure visitor spacing, the cleaning of the washrooms etc… It is this level of security that we offer to our visitors and exhibitors in Algeria at our expense to ensure that every visit to our fairs is a safe visit.