"A passion for nature and the mountains of Trentino, the search for quality cuisine that leaves a lasting impression, and a lively personality that comes across as soon as he speaks. Alfio Ghezzi, Michelin-starred chef of Senso in Rovereto, explains the recipe for a simple and minimalist cuisine that is truly unforgettable. "
Original and lively, he couldn't but choose a unique location like the Mart di Rovereto as the setting for his kitchen. Alfio Ghezzi, boasting extensive experience in the most prestigious Italian hotels and years working alongside master chefs Gualtiero Marchesi and Andrea Berton, offers simple cuisine which, as he explains, "requires that the ingredients travel very little", because his creations are literally contaminated by the region; a region which is represented through its products and producers and in which tradition serves only as a backdrop, a testament to the value of the land.
If you ask him to describe the essence of his kitchen, Ghezzi never talks about recipes, raw materials, or the menu, but rather immediately talks about "recognisability", because for him the idea is that his guests have an experience through his dishes, be moved by them, and leave with a unique and lasting memory.
A uniqueness that's based on simplicity: "Culinary styles," says Ghezzi, "are moving more and more away from super structured dishes and instead discovering tangibility, purity, and simplicity."
Characteristics which are also typical of the region in which the chef's favourite raw materials originate, like cabbage, brook trout, eel, and Malga Mondent butter. "A chef's pantry says a ot about him," he comments. "It explains who he is, what he thinks, and where he's from."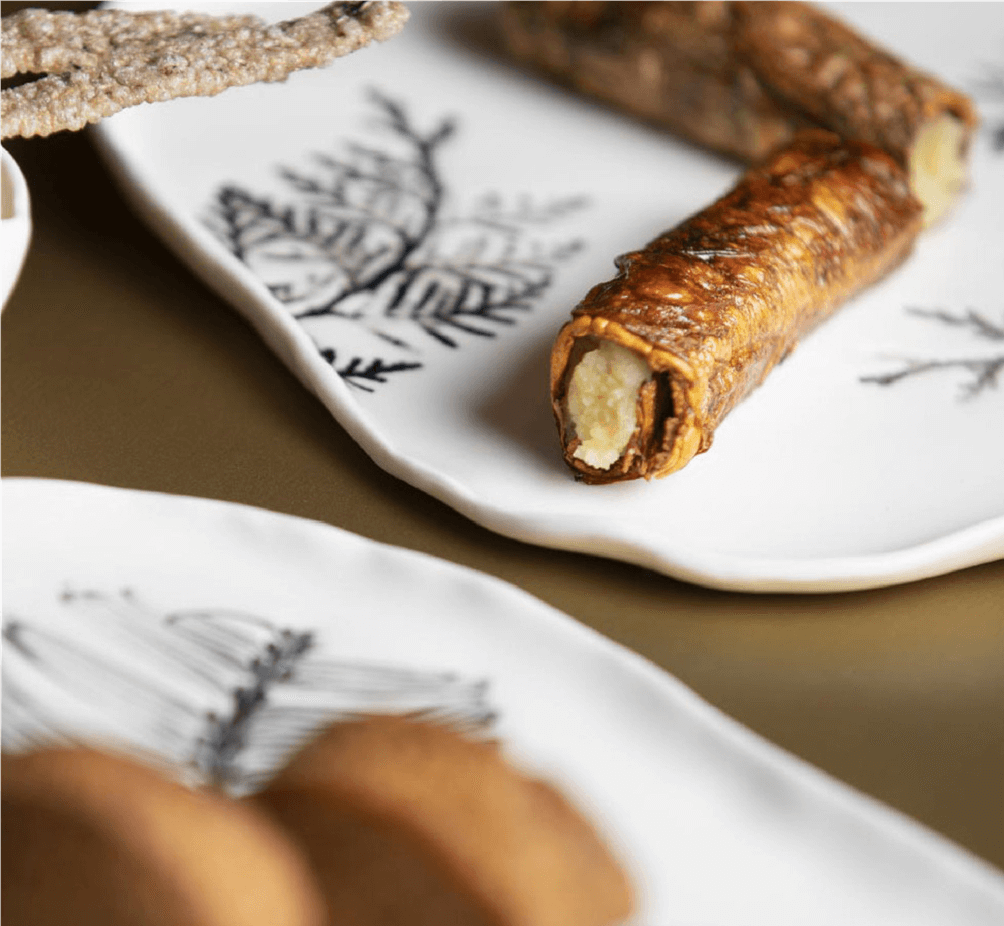 Thus, the philosophy represented in Ghezzi's menu conveys his direct connection to all of the producers in the region who are dedicated to sustainability. "We have just one menu," he says. "Our dishes are strongly connected to Italian tradition and, when possible, to local products. Thus our criteria is the direct contact with the supply chain, with the producer or breeder, so as to ensure deep and reciprocal communication and knowledge."
And while there is just one, exclusive, menu, Senso also offers three different beverage pairing experiences: "Nostrum" is the pairing of four wines from Trentino; "Terra" is the pairing of five "second nature" wines; and finally "Senso" is the pairing of five beverages, including the house made wine, a natural wine, and a beer.
In this return to simplicity and origins, to natural materials and a distancing from super structured dishes, the approach towards the use of tools changes: "Abandoning the idea of a cooking style that's overly connected to technique and moving towards a simpler and more minimalist cuisine," comments the chef.
"Even the tools which chefs use are changing substantially. We're rediscovering traditional cooking methods like grilling and spit roasting, while vacuum technology is being used far less, or at least only for preservation." But it's not only the attitude around equipment that's changing, especially of late. Sustainability also plays an important role in this new way of cooking.
"What do I see happening in the near future? I believe that everyone, restaurateurs, chefs, waiters, and guests, are realizing that the future of the restaurant industry lies in offering products which are more sustainable, not only financially, but also in terms of human resources (with improved working conditions) and the environment, through respect and a sense of interconnection with the landscape."
And here the chef's beloved mountains of Trentino can't help but come to mind, the place where everything began, and which today serves as a constant source of inspiration.