A product of the passion of the current owners' grandfather, developed in the distant post-WWII period, today Masiello Food has definitely grown to be one of the most important companies in Apulia's food industry.
The company is currently expertly run by his three grandsons: Alessandro, Francesco, and Valerio, sons of Romano, who have inherited his passion and commitment, primarily strengthening the company's presence in international markets and succeeding in exporting the brand to 55 nations around the world.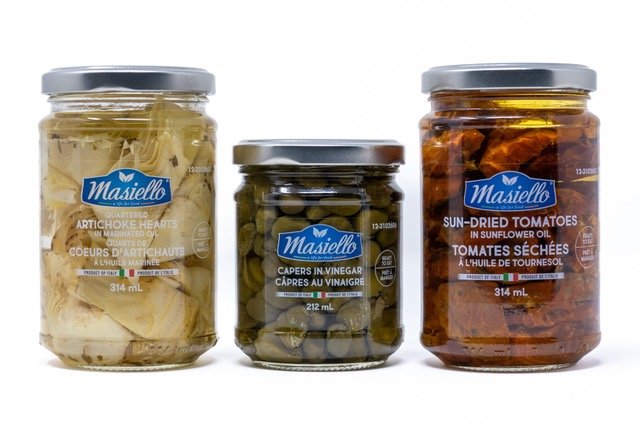 The company is located in the Tavoliere delle Puglie, one of the most agricultural areas in the region. The production facility occupies 13,000 square meters, with three production lines that guarantee a high production capacity. One of the companies undisputed strengths is quality. It is BRC, IFS, BIO, and Kosher certified and continuously invests resources in the innovation and improvement of its production systems.
Within the facility is a quality control laboratory equipped with cutting edge tools that are necessary for guaranteeing food safety and consumer health. The safety system that has been implemented includes continuous and constant inspections throughout the entire production cycle: analysis of incoming raw materials, inspections during the production process, and inspections of the final product.
All of the machinery used in the various stages of the process are of the latest generation, such as, for example, the X Ray Machine, and are constantly updated in order to guarantee their efficiency and effectiveness.
A research and development team is also present within the company, which, in addition to continuously modifying and improving the more than 200 products that the company already produces, is always looking for new ideas and new products, like the most recently developed "Terrecrude" line (in photo a draft), a range of products made exclusively from Apulian raw ingredients with the addition of extra virgin olive oil and truly appealing packaging, but… that's not all. Soon two more product lines will be introduced.
*News: PIZZA MOOD is born, the new pizzeria line! 6 low acidity products specifically designed for pizza in both retail and foodservice sizes.
Roman-style Artichokes with stems, Artichoke leaves, Artichoke quarters, Sundried Tomatoes, Leccino Olives all in marinated olive oil and capers in apple vinegar.
All updates will be available online at www.masiellofood.it