L'Insalata dell'Orto was born from the blending of our passion with an idea: a passion for the land on which our family has been cultivating salads and vegetables for three generations; and an idea that took us to expand production to greenhouse cultivation in 1990, and then to processing and packaging horticultural products.
As a natural evolution of farming production, in 2000 L'Insalata dell'Orto Srl was established as a company that also processes our products, packaging and distributed them throughout Italy and to other countries.
While our approach to farming has evolved and brought technological innovations, the care and dedication to our work remains. They are the basis for our success, which we achieve season-by-season, with every product we grow.
Supply chain and production sites
Over the years, our production base has always been a source of pride. Control over the supply chain is constantly guaranteed by more than 300 hectares of own production in the regions of Veneto, Campania and Lombardy.
Our relationship with external suppliers is based on trust and mutual respect for their work and commitments, and with decades worth of relations behind it, we are one large family-industry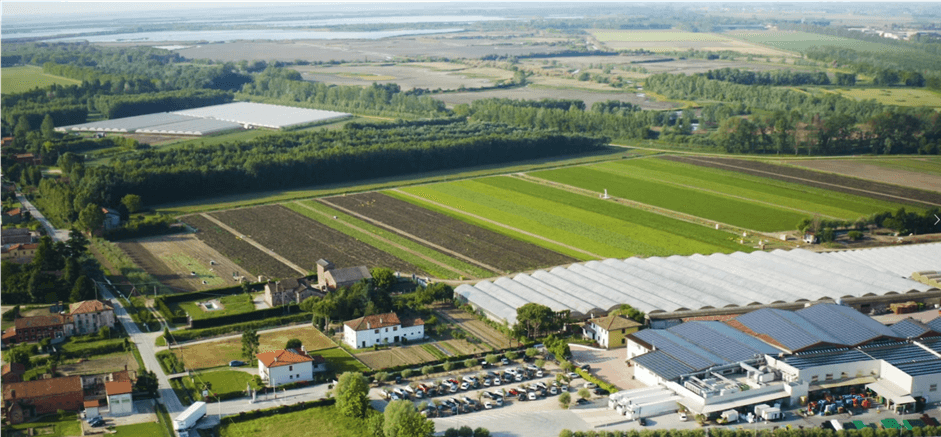 Sustainability Report
We have always invested in technology to protect the environment, health and the areas we farm, which is why we have decided to make all our actions official by presenting our first SUSTAINABILITY REPORT. We are sure it is something to be proud of being the result of commitment and passion, hard work and entrepreneurial spirit.
Cultivation methods and organic farming
We produce according to the rules of INTEGRATED PEST-MANAGEMENT PRODUCTS using modern machinery and technology on all our farms to ensure production that respects the environment, the land and the health of our consumers.
More than 70% of our crops are grown using certified ORGANIC PRODUCTION METHODS.
Supply chain
Our 14 owned farms are found in Veneto, Lombardy and Campania, guaranteeing raw materials all year round.
DOWNLOAD HERE A FREE COPY OF HORECA INTERNATIONAL MIDDLE EAST 2022