Iso Italia Group is an Italian company with 30 years of experience in the wellness and aesthetic industry, located in Veneto, in San Stino di Livenza, a few kilometers from Venice.
Under the brand ISO Benessere we produce in Italy and sell all over the world equipments and furnishings for aesthetics, SPAs and wellness centers.
ISO Benessere mission is offer solutions for treatment areas, high-tech and reliable, which give well-being and emotions to SPAs and beauty centers guests.
ISO Benessere products are conceived with an Italian design, multifunctional and multi-sensory, designed to go beyond the concept of a simple treatment bed.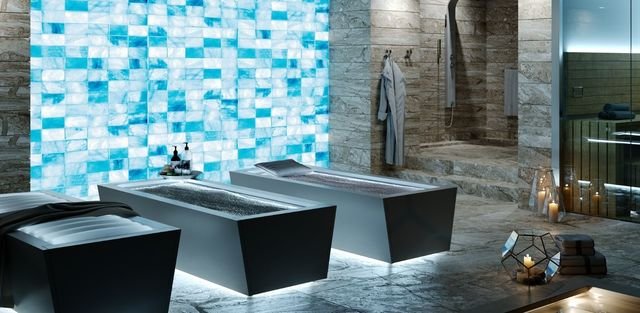 We are specialized in the realization of professional massage beds, Himalayan salt rooms and walls, relax loungers for spas, equipment for photorejuvenation, furniture for spas and beauty centers and in the design and construction of complete spa projects.
Our products dress and characterize the environment, offering an innovative operational features, an unforgettable CONCEPT and an EMOTIONAL EXPERIENCE.
Our research and development department involvs a team of Spa managers, designers, architects and technicians; this allows us to develop our products in compliance with the multiple needs that the market requires: functionality, design, innovation, reliability.
The work done in these years has allowed us to grow considerably, earning the trust of prestigious customers including Marriot, Costa Crociere, Hyatt, Hilton and many other internationally renowned brands, results that make us proud of our work and that drive us every day to give the best to grow further.
Our company is aimed at Spas, beauty and wellness industry operators, who believe in this industry and are able to see and plan customers' satisfaction and want to represent innovation, beauty, functionality.
If you are thinking to build or renovating your spa, discover the complete line of ISO Benessere products and download the catalog on.