1. What does your company do?
Preformati Italia was founded on the desire to pursue innovation through consolidated and skilled craftsmanship. These aspects are combined with the use of high-performance materials applied to the world of water and well-being, especially when building swimming pools, whirlpool baths, wellness pods and furnishings. When these components meet the world of architecture and design, they are able to transform the professional's intuition into prestigious, top quality finished products capable of overcoming the limits imposed by traditional construction techniques.
An idea is first developed into a structure through three phases of the production process:
A) High-precision machinery enables structures that are perfectly faithful to the design project to be built.
B) Semi-finished products manufactured using numerical control technology are broken up and then reassembled, so they can be refined and tested by the skilled hands of Preformati Italia's craftsman.
C) Installation is always fully in accordance with the design project. Then guaranteed customer service and assistance is ensured over time by Preformati Italia's highly qualified in-house service personnel both domestically and internationally.
2. For whom are your products intended?
Our customers are mostly professionals, builders, general contractors, large clients, and tourist-accommodation facilities that want to create highly customized pools using cutting edge materials and components that will allow complex projects, applicable to any architectural context, to be executed.
3. What materials are used to build your pools?
Klimapool, which is a high-quality polymer compound that constitutes the modular elements of our finished products, is the result of decades of research and development applied to the world of wellness. The combination of different elements, which we consolidate and assemble, not only give our finished products great mechanical resistance but also, and above all, makes them extremely flexible for the creation of innumerable complex shapes. Added to these features our exclusive use of high-performance products makes the pools' structures extremely lightweight whilst offering high levels of insulation, which also makes them highly energy efficient.
Our work is an excellent example of how the principles of structural mechanics applied to the world of pools can be combined to build the most varied forms of water architecture. By blending traditional and innovative solutions we are able to interpret the needs of our customers when they wish to offer multiple varieties of water activities. We build water spaces that combine the pleasures of enjoying relaxing, moments enveloped in water's gentle warmth also enhanced by the caress of hydro-massage.
4. Do you also make pools for terraces?
"KLIMAPOOL FLOATING" is our exclusive product conceived to create a bridge between Art and Design as applied to the interior spaces of swimming pools and the spectacle of nature while immersed and enveloped in the gentle "relaxation" of one's own pool located on a terrace or on the top floor of any building.
KLIMAPOOL FLOATING was developed to meet the need to build a swimming pool that, due to its lightness, would not weigh excessively on the load-bearing structure of the building, while at the same time being environmentally friendly both in terms of the pool's natural beauty and of its energy consumption and thus its environmental impact. A KLIMAPOOL FLOATING pool can be built with either a traditional skimmer overflow perimeter or an infinity edge.
The overflow perimeter can also be made entirely of KLIMAPOOL material, including the compensation tank and the pool cover compartment, which can be perfectly integrated with the perimeter edge and the sunbathing area using a simple and linear design. The pool's interior furnishing can include more than 40 distinct relaxation stations in terms of design and applied technology (air or air-water massage, chaise lounges and seating, etc…)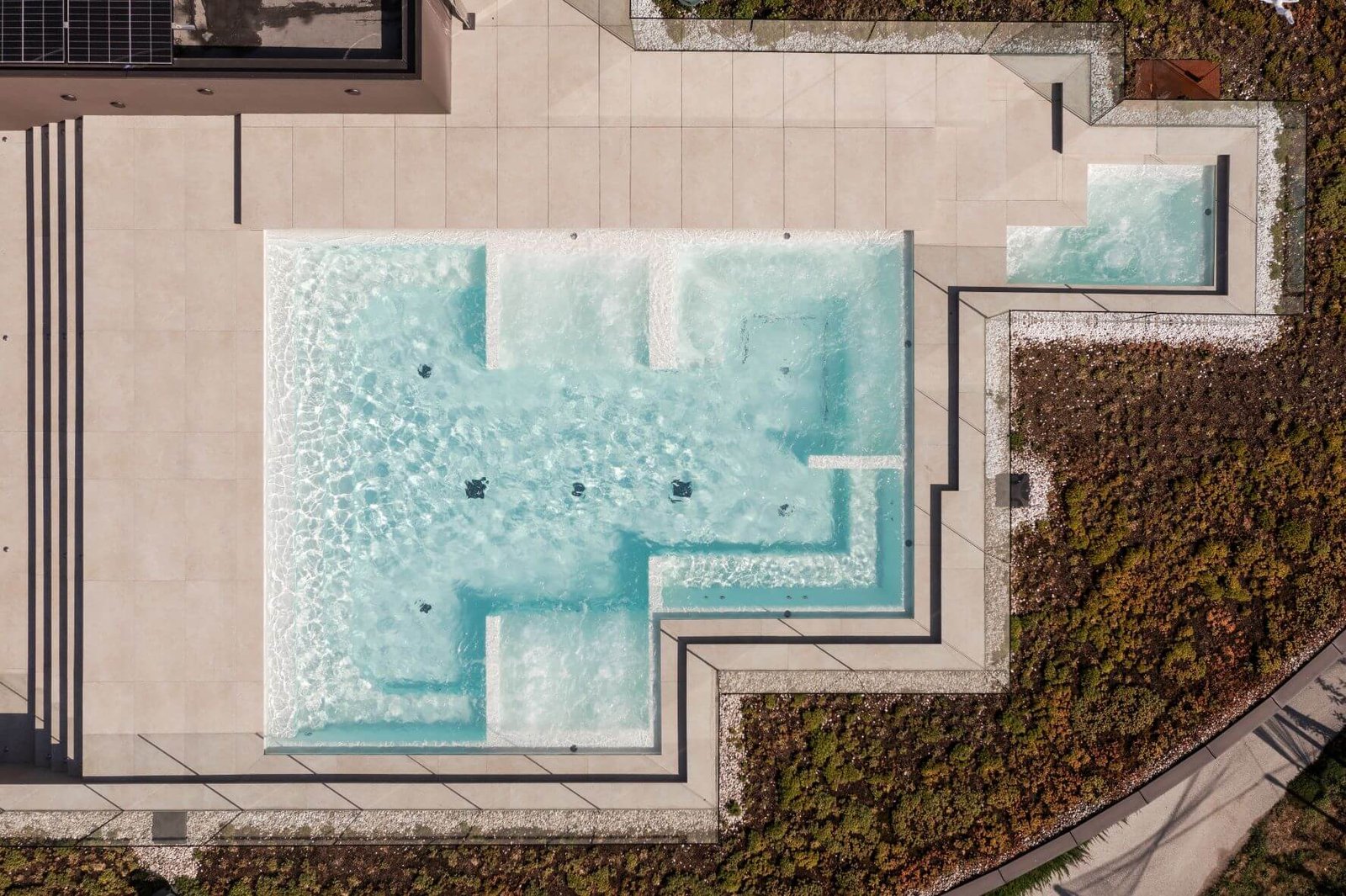 5. What is the difference between building an indoor pool versus a rooftop pool?
Preformati Italia's pools all offer the same qualitative and structural features because each product is custom designed and sized following a process that starts from our in-house project. Having said that, there is no doubt that building swimming pools on terraces will have to deal with some extremely delicate issues, precisely because the underlying spaces are usually occupied by rooms and other inhabited premises.
Maximum allowable structural load, difficulty accessing the terrace, (often located in historic city centres, and at significant heights, not reachable except through existing spaces, etc…) mandatory spaces that limit design possibilities, inability to attach any type of anchor to the ground to avoid damaging the terrace's waterproof covering, lack of supporting structures, need to create diversified pool furniture for a total experience, frequently limited depths, etc. are just some of the issues we resolve-
With the Klimapool system technology, complete protection of the structure's waterproof coverings is ensured while the risk of infiltration is eliminated, which is especially important in terrace constructions.
First, Preformati Italia develops the pool design project. Then the plan is entrusted it to its in-house engineers for static checks. Through a virtual model able to simulate the structural behaviour of the artifacts involved, in terms of stresses and deformations (FEM method), the self-supporting system can be calibrated to then have its technical details specified, so that the pool can be built in the carpentry workshop.
The knowledgeable pre-assembly in the production plant of all the different components (metal frame, EPS walls, systems and smoothing of the different blocks) allows the delivery of a monobloc manufactured product ready to be assembled or modules that can easily be transported and fitted on site. Because of the sophisticated joint system and a patented levelling procedure, the assembly process is always fast and safe. Once the leak test is completed, the final finishing procedure can be started.
Performati Italia implements a production process divided into four specific consolidated steps:
1. The technical office is responsible for project engineering. Specialized guide staff advise and assist the customer, whilst also presenting any proposals for improvement and modification. Then, once the final designs have been approved, the systems and other particulars that will make the production process unique based on the needs of the individual customer are selected. Only then does the cutting phase begin using computerized pantographs.
2. At this point we move on to the production phase, where the entire installation is inserted into the structure and finished, which creates obvious advantages, such as reducing on-site construction time and costs, and facilitating final assembly.
3. Before the finished product can receive the Preformati Italia quality mark, the pool will be thoroughly checked and tested by qualified personnel.
4. The assembly of modular structures is simple and immediate. Handling at the construction site, even above the 5th floor, is made much easier by the light weight of the raw materials and semi-finished products, which will be perfectly integrated and sized to fit seamlessly into the building's supporting structure.