LYON BISCUIT from 1935, unequalled pastrycook know-how
The pastrycook Gomez –La Basquaise settles in the suburbs of Paris in 1925. It is already specialized in items for ice-cream makers and waffle producers. In 1930, the Gomez brothers got the idea to give a cone-shape to the usual flat waffle pastry.
Still very innovative, they will rapidly pass from the moulded cone to the waffle cone. Their know-how will be awarded by the winner prize at the colonial exhibition in 1931. They will settle in Lyon area in 1980 getting into partnership with Lyon Biscuit. Both companies are now a must in today's market.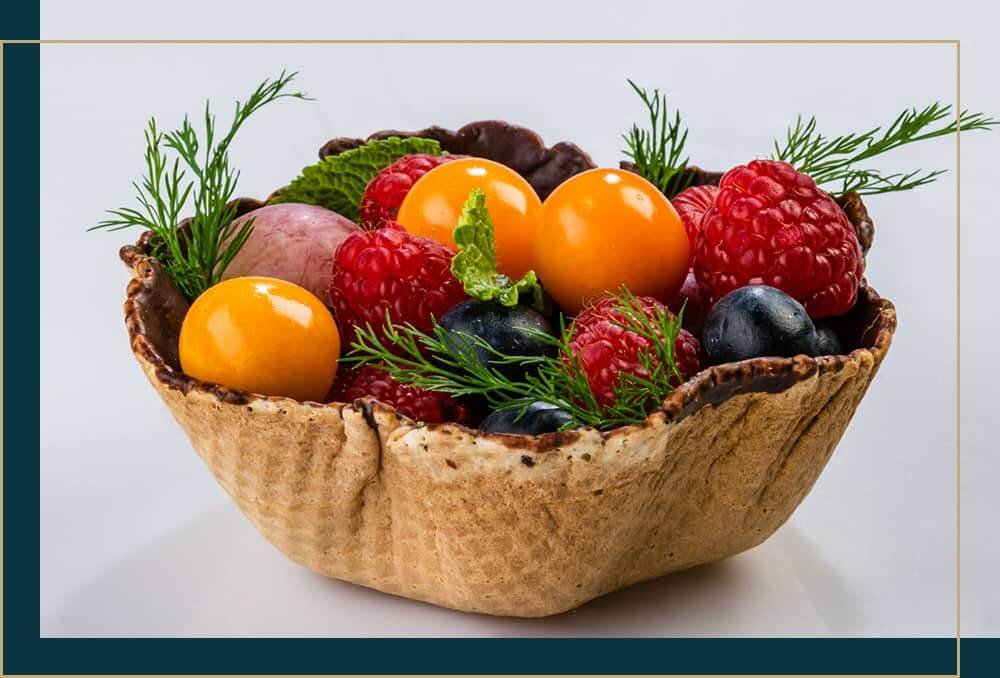 In 1985, the two brands company is finally called LYON BISCUIT and gets into new premises in Clérieux, in the Drôme area. It will acquire a specific production tool that will ensure an unrivalled quality biscuit. In 1987, it develops the new concept of the ready to fill waffle cup.
Since then, very anxious to satisfy its customers, the company will develop a large range of cones, ice-cream pastry that will meet the market expectation and energize the ice-cream makers, restaurant owners and pastrycooks sales.
LYON BISCUIT, the real taste
A sweet and vanilla flavour, slightly praline-flavoured and crunchy.
LYON BISCUIT is very involved in developing the quality of the flavor and the taste of its cones, waffle cups and biscuits.. In order to develop this gustative aspect, LYON BISCUIT works with homemade recipes and strictly selects raw materials to guarantee the quality:
• No hydrogenated fat
• No allergenic ingredients
• IFS and BRC certification, ensuring that the products are «healthy food»
• No GMO guarantee
LYON BISCUIT, the real taste that will accompany your ice-cream flavour So that you can enjoy your ice-cream up to the end.
LYON BISCUIT, each ice-cream gets its own cone!
Home-made, traditional, Italian ice-cream, served with spoon, spatule or with machine, LYON BISCUIT proposes a cone for each texture. A cone that will allow you to make your best icecream right away.
Thanks to its experience and its clients' one too, LYON BISCUIT can advise you on what to choose and help you select the most suitable range of products according to your projects..
• Rolled up or moulded cones, small , large, extra-large,slender
• Sweetened or chocolate coating cups,
• Timbale-shaped waffle cups,
• Side biscuits …..
LYON BISCUIT enhances the quality of your ice-cream in accordance with the customer's need.
LYON BISCUIT: dynamic and creative just for you
With its own R&D office, LYON BISCUIT develops a special relationship with its customers as the company can meet their expectations but also regularly suggest them new products..
Thus, ESAL has the leadership in the coating technique. LYON B ISCUIT has combined high gustative coating recipes and a unique making process control in order to develop waffle cups and cones with smooth, regular and quality coating in a large range of flavours.
Available coating flavours:
Chocolate, toffee, lemon, berries, coffee, orange.
Settled in the south of France, between Lyon and Marseille, among orchards and vineyards, LYON BISCUIT committed itself to respect economic sustainable development by creating a special relationship with its close by suppliers. Cette décision partici
This decision contributes to its dynamic in meeting the objectives of quality and reactivity.