Nature and simplicity
Fields of flowers, natural products, simple and graceful lines: H&H presents a new collection that leads you to the charm of a rural and bucolic lifetime. Looking back to the past with a slight nostalgia, it drives you towards a simpler and more peaceful lifestyle.
A story of simplicity that expresses a legit need to be in contact with nature. H&H lifestyle suggests a selection of items that is perfect to highlight a natural and genuine menu, made of local products. In this particular historical period, there is an interest even more oriented towards tranquility and authenticity. The simplicity of the H&H Lifestyle lines helps you recreate an idyllic refuge from the uncertainty of later years.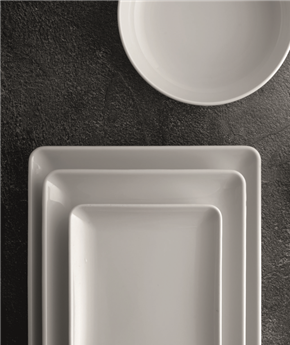 How to impart the artisanship and the passion for the raw materials in the mise en place?
Choose a white porcelain set of plates, acacia wood tablemats or burlap placemats and add some color with colored glasses with home-made features. Indulge yourself by combining linen or hemp textiles and decorations such as candles, glass or terracotta vases in different sizes. And finally, add some fresh natural elements to the center of the table: this way you will give it a romantic and authentic look.
H&H Lifestyle offers you the shades of cloud, sage, salmon and cream from the Pearl collection, which is presented this year in a new version of white porcelain: a harmony of clean and simple shapes that will immediately strike you for its essentiality and elegance.
The whole Pearl collection consists of dinner, soup and side plates, oval and rectangular plates, bowls, tea and coffee cups, mugs. The combination is recommended with the Acacia collection: cups, tablemats, bowls and trays in acacia wood for a textured mise en place and a warm and sophisticated environment.
The brand's shared values of home and hospitality allow H&H to be the best solution to bring to HO.RE.CA. the style and the typical engagement of your home. A full range, carefully selected by paying attention to the quality and safety of products. Our business expertise and the certified control and test system guarantee the product quality, resistance and maintenance.