"For nearly a full year now, the food industry and Food Service sector have been among the most impacted by the health crisis", explains Olivier Ginon, Chairman/CEO of GL events. The 2021 edition of Sirha Lyon, at Eurexpo Lyon from September 23rd to 27th will make a strong mark on the recovery of a sector that is essential to society, to the economy and even to our lives."
Sirha Lyon naturally takes into consideration the sector it serves, a sector that has been severely impacted by months of cumulated closing since March 2020. All the exhibitors, partners, chefs and key players in the catering and Food Service industries have reasserted their trust in Sirha Lyon. This 20th edition will more than ever play a central part on the path to recovery, attesting to the event's role as a pioneer and in support of a sector that is continually adapting.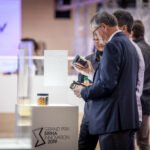 Sirha Lyon 2021 will demonstrate its ability to push back the boundaries of the events industry, to generate novelty and new services in support of the exhibitors and visitors, in a conscious and responsible way. Sirha Lyon in September will send a strong signal for recovery and reconquest, it paves the way for a new economy of Food Service for the post-Covid-19 era.
Sirha Lyon has now integrated the Sirha Food brand and digital ecosystem and will offer a new digital service: Sirha Connect. Available on the Sirha Food app, it will connect Sirha Lyon's exhibitors and professional visitors, enabling them to exchange before, during and after the event. It will offer the possibility to plan business meetings as well as Instant Messaging and digital business meetings features. New local and environmentally friendly stall design/creation packages will make it easier for exhibitors to create and set up their stalls.
To be accurate to its unifying and human DNA, Sirha Lyon 2021, more than ever, promises to pay a vibrant tribute to all types of Food Service that have had to adapt to this unique period in the history of the industry.
The constellation of 24 Sirha contests, including the world reference events that are the Bocuse d'Or and Pastry World Cup, is intent on celebrating not simply a return to normal but a true renewal for the entire sector.
For information: