Sermeo Espresso is a company that founded its business in the production of coffee in all its different shades: from the selection of the finest quality and the roasting to the sale of the blends. Raising from the slopes of the Etna, in Nicolosi, where a historical family tradition was born in 1978.
Preserving the artisanal tradition without forgetting innovation is our main goal, nowadays the company provides coffee pods and capsules, coffee beans or ground to restaurants and bars, equipment for private accommodations such as offices and homes; high-quality products that go through a selection and a packaging that gets the greatest care and attention.
The goal of Sermo Espresso is crystal clear: growth and customer satisfaction.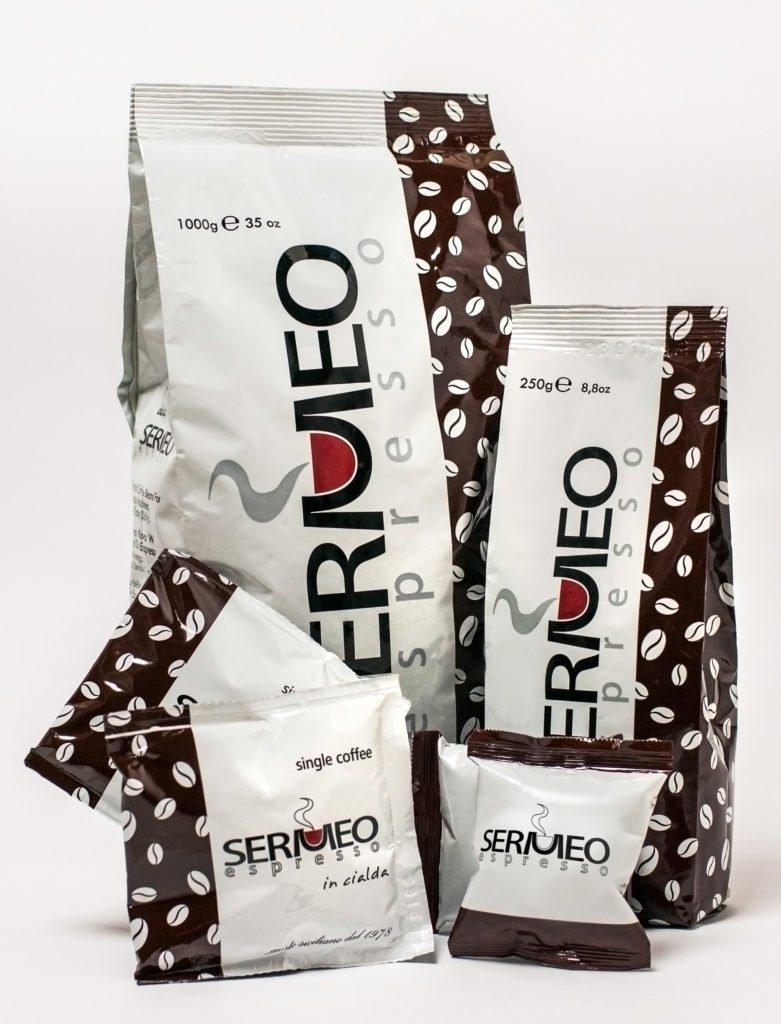 Sermeo offers tasty and unique blends, secret roasting recipes, creating through the mix of different kind of coffee, aiming to create a recognizable and aromatic mixture. The company has three different mixtures: soave, bar, and classic.
Local restaurants and bar can enjoy the perfect solution for coffee lovers, blends of several tastes and savor coffee in all its shades.
Soave blend has a delicate and sweet taste, made with 70% of Arabica coffee from Central America and 30% of Robusta coffee, coming mainly from Africa and India. High quality espresso, excellent blend, great aroma and with a unique velvety cream, capable to delight any palate.
Bar blend has a strong and intense aftertaste, unlike the Soave one is made with 30% Arabica and 70% Robusta coffee. Perfect for those who love a strong and chocolate like taste, incredibly pleasant and persistent. Perfect when you want to take a break. From the first sip you can tell the Robusta taste, that lives a clear cocoa sensation.
Classic blend has a deep and determined taste, made with 50% Arabica coffee and 50% Robusta coffee. Persistent aroma, full bodied and strong, characterized by a creaminess at its peak: the perfect example of passion to the true Italian Espresso.
Sermeo Espresso gives the chances to have the perfect bar like espresso while sitting comfy in your office or home.
Coffee Pods
The coffee pod is the perfect match for those who need a good coffee with simplicity and comfort. An amazing look, a surprising taste, a hazelnut, colour, a preserved fragrance over time thanks to the sealing of its packaging. Creamy taste, intense and sweet at the same time.
Capsule
Made with a plastic material, the capsules have a low environmental impact. They have a full and enveloping taste, a persistent cream and intense aftertaste, are compatible with the most common machines.
Ground for Moka
Sermeo Espresso makes ground coffee, the ideal to make thorugh the moka. The package is 250 gr, a must have in every kitchen! Its aroma is full and enveloping, able to inebriate the environments, to brighten the palates, to make the atmosphere more tasty and unique.
For more info on Sermeo Espresso click here