On the occasion of HostMilano, from 13 to 17 October 2023, Sanitec presents the EU Ecolabel certified formulations for the kitchen
At HostMilano, Italchimica presents a selection of professional detergents from its Sanitec brand for the horeca industry, with particular emphasis on its EU Ecolabel certified formulations that combine excellent product performance with verified environmental standards. Horeca professionals, thanks to Ecolabel certifications, can make informed decisions to reduce environmental impact and Italchimica has long been committed to creating formulas that are sustainable with excellent detergent properties.

Sanitec was launched in 2001 and is now a well-known and valued brand, gaining great popularity even in the horeca world following major television campaigns over the years that featured Italian starred chef Matteo Grandi.
The Sanitec lines on display at HostMilano are mainly those dedicated to tableware and kitchen surfaces. For the former, the stand will have a space dedicated to EU Ecolabel certified solutions such as Stovil Green Power, a powerful automatic dishwashing liquid with a low environmental impact without compromising on strength: it removes grease and food residues, it does not foam, it is easy to rinse and it prevents the formation of rings and limescale on the dishes as well as on the dishwasher itself. Dekal Green Power is also among the EU Ecolabel certified products, an acid descaler that removes limescale from utensils and equipment such as dishwashers and boilers.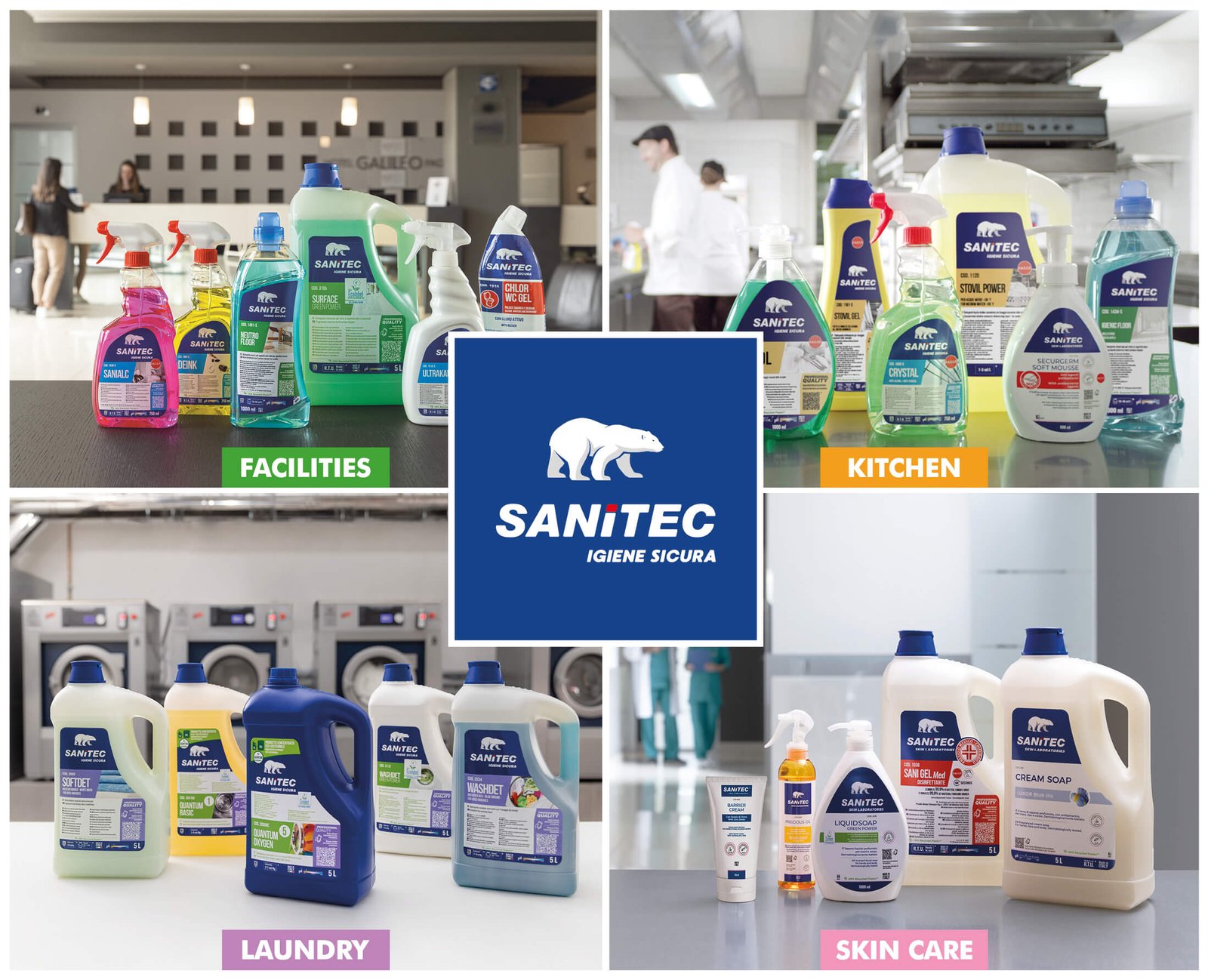 The same certification also applies to Brill Green Power, a rinse aid for mechanical dishwashing that speeds up drying and is also effective on plastics. Neopol Green Power is the concentrated liquid detergent for washing dishes by hand that forms a dense foam that rinses easily without leaving rings.
There will also be a focus on Trilogy for washing dishes, a system with an automatic dosing device that allows you to dose detergent, sequestering agent and rinse aid on its own, adapting to all types of dirt and water hardness. It is a highly technological system that ensures cost control, monitoring and also allows the elaboration of washing statistics, ensuring consistency and reliability of results.
As for kitchen surfaces, Italchimica will exhibit a selection of Sanitec formulations dedicated to this area including Oven Power, a powerful concentrated alkaline detergent for self-cleaning ovens, Ultradegreaser Green Power, EU Ecolabel certified with ingredients of natural origin that effectively removes grease and oil residues.
Fornonet has been made for ovens, grills and stovetops, while Brill Oven is an acid rinse aid for self-cleaning ovens. Caffè Wash is the concentrated alkaline detergent specifically designed for traditional coffee machines and Induction Hobs is the detergent designed for induction and glass ceramic hobs.
The wide range of products, the continuous improvement of the formulas and the commitment to create products that are highly sustainable, make Sanitec a trusted and leading brand for horeca professionals.