Let's start with a routine question: How and why was Assohoreca established?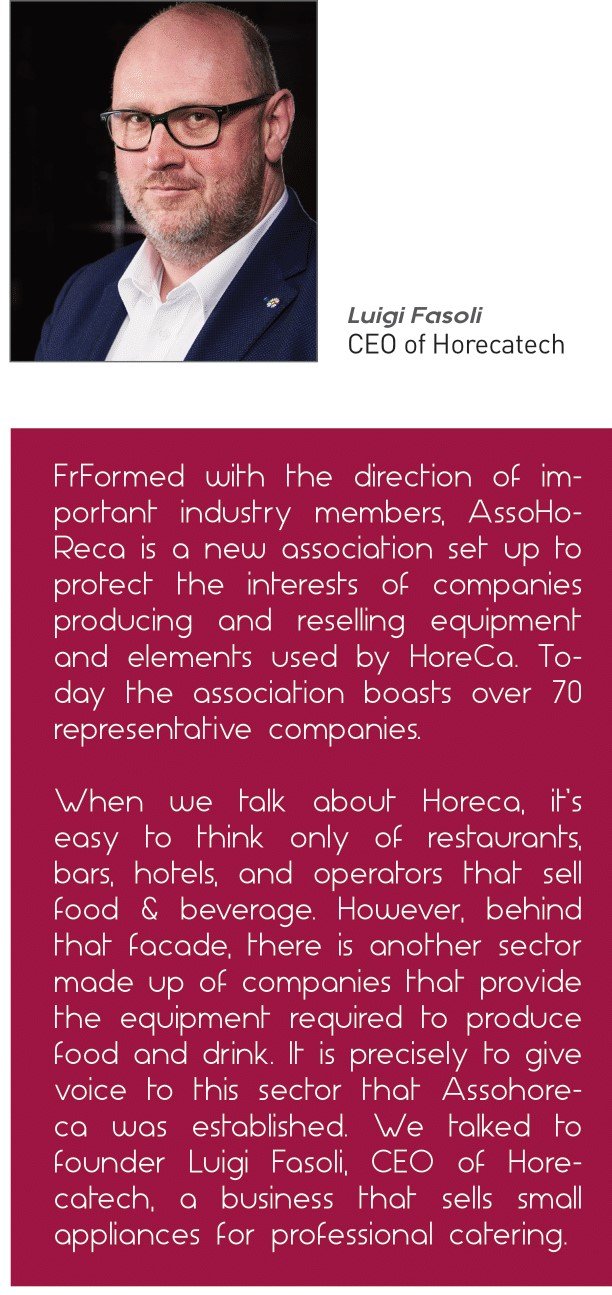 It was created because of a gap in the market, one that has until now shrouded the supply chain (Horeca) to operators from restaurants through to hotels in secrecy. Until now producers of vital food and beverage equipment have been required to work independently.
We positioned ourselves as the first trade association to facilitate more respect by institutions, as well as share advice and helpful services, network and improve conditions for professionals than those they would obtain if they acted alone."
Are there other similar associations?
"No, there are no other professional associations to protect the interests of our specific sector. This is the reason we are striving to safeguard the interests of both producers and importers of all that benefits or is called for by the Horeca sector to take care of the end customer: from a frypan right through to a blender."
How many companies make up Assohoreca to date?
"Since February 80 companies have joined Assohoreca: these comprise different companies ranging from small businesses to very large and important brands."
What are the strengths of the Horeca suppliers? How do you plan to work together, also from a commercial point of view?
"The companies that are members of the association will undoubtedly determine special conditions for the end customer at some point, but our first commitment is to achieve recognition of benefits to our category.
If, for example, by acting collectively, we could procure forms of credit that would allow operators to purchase equipment we produce and market, these advantages would undoubtedly also assist the end customer. The HORECA supply chain has the same goals, therefore anything worked out for one specific part of the supply chain is also an advantage for the others."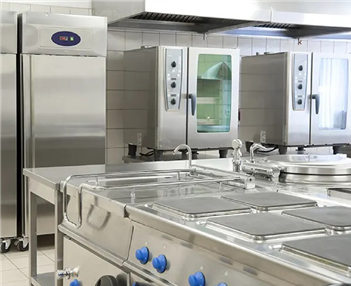 In what is a complex and historical moment because of the COVID-19 pandemic, what are the key challenges for an industry like yours? How do you think you can best assist your customers now?
"One way is to have the operators of our association recognized with a specific ATECO code. At the moment, those who work in our field fall under a generic ATECO code that mentions catering but refers merely in generic terms to the wholesale sector – which includes tens of thousands of types of companies.
This has led to unnecessary confusion. Also, if we were entitled to a specific ATECO code, it would have been easier and more cost-effective for the State to support our sector. Our particular market has been heavily affected by the pandemic, but the state cannot distinguish us from other similar sectors that were perhaps less affected – and potentially they have to pay out everyone rather than those most afflicted.
Our sector, we have worked out, employs around 15,000 people and is worth circa 4 billion, of which should be added another 4 billion for large factory manufacturers and 15,000 additional employees.
We have contributed to a VAT revenue of around 2 billion. Considering that the marker has taken a 30-40% hit during the pandemic, if the sector is not given additional help soon, the risk of more lost revenue for the state is remarkably high, actually just the lack of VAT revenue is significant."
What are your requests for these institutions?
"Besides the already-mentioned request for immediate creation of an ATECO code that identifies our activities, I believe it is imperative that investments are made on behalf of professional operators (bars, restaurants, hotels, etc.). The best support now would be a 50% tax credit for purchases of any Horeca equipment with a budget of 250 million Euros.
This would immediately help circulate 500 million in investments and would not involve disproportionate spending by the State. The loss would comprise only negligible sums of revenue that would be partially offset by VAT revenue anyhow. In addition, by setting a cap of 10,000 Euros for each request, the total amount of beneficiaries would be 25,000."
In view of a possible recovery in 2022, what are the prospects and future projects planned by your association?
"We aim to establish a constant and unified dialogue with various institutions, and to monitor fluctuation of the European directives in our sector. Today, what is happening regarding this point, is that a new European directive has come into force, but nobody knows how it works and everyone interprets it differently; so, this creates many problems.
We also looking towards developing a strong legal and business consulting service for members, as well as specific conventions for our companies. But to start, the recognition of a specific ATECO code for our sector is undoubtedly our chief aim. We are a large and important sector, and we will work hard to ensure that our industry is properly recognized."