Water with the minerals you desire
At the gates of Milan there is an Italian company that is revolutionizing the world of water and beverages. We met Simona Berger, President and founder of Sigroup.
Q: Mrs. Berger, but what exactly does "water with the minerals you desire" mean?
A: We have developed and patented the way to instantaneously re-mineralize purified water.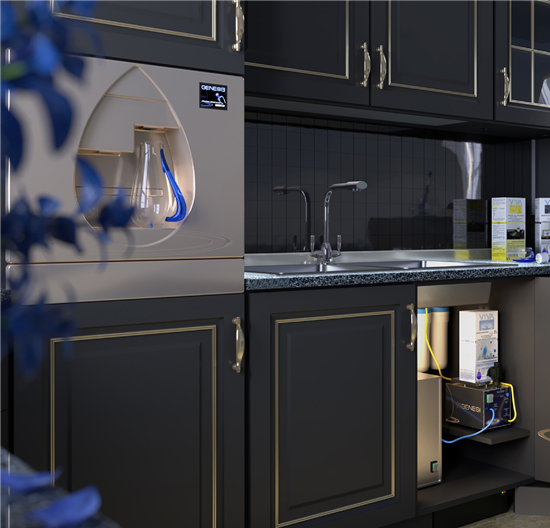 Q: Purified through osmosis systems?
A: Yes, these systems connected to network water have allowed hundreds of millions of people to drink purified water. However, reverse osmosis membranes produce almost mineral-free water and, according to drinking water legislation, it should maintain a salt content.
The manufacturers have solved the problem with a by-pass which consists in not letting all the water pass through the membrane to guarantee the presence of minerals in the water dispensed. The criticality is that in addition to minerals, some undesirable substances may also remain. The use of such a system reduces the minerals originally present, but normally does not modify them.
Q: And how do you reinsert mineral salts in this purified water?
A: Our great innovation consists in having devised a rapid process able to keep the salts perfectly suspended in water, even in concentrate. With a 2-liter pack of our VIVA Bag-in-box you get 100 liters of excellent personalized water and free of unwanted substances.
Q: what do you mean by personalized?
A: We made various combinations of minerals by type and quantity, specifically designed to meet different individual needs. The salt content is between 20 and 650 mg / l. For example, VIVA SKA is a water created ad hoc for preparing an optimal coffee, regardless of the extraction methods used.
This formula respects the characteristics that water should have, according to the Specialty Coffee Association. We could even replicate the salt content of most mineral waters on the market and also study custom-branded waters for customers.
Q: I guess that a kind of equipment is needed to dispense water and beverages.
To date, there are 3 devices available with GENESI technology: GenesiBar is a modular system with a bench top dispensing tower, while under counter there are filtration unit with osmosis, cooler, CO2 cylinder and 6/8 Bag-in-box in line, at the customer's choice, to dispense water with various combinations of minerals, aromatic beverages and water enriched in specific minerals. It's perfect for hotels, restaurants, bars, spas, gyms and the like.
GenesiBar has already been presented in the most important beverage fairs such as Munich, Amsterdam, Krakow, Milan and Rimini; it was a huge success with the public and won several awards.
Mini-Genesi is a small economic device, equipped with a universal coupling, which is connected downstream of reverse osmosis filtration system and works with a bag-in-box of minerals concentrate at your choice. Target is domestic as well as small Horeca facilities.
Genesi3 is a built-in appliance that can accommodate the filtration with osmosis and works with a bag-in-box of minerals concentrate at your choice and the practical single-dose VIVA capsule system. Target is domestic high-level, but it is also suitable for spas, hotel suites or for small communities and offices. Genesi3 is also equipped with a second circuit dedicated exclusively to coffee in single-dose capsules.
Q: So a restaurant could create a water menu?
A: There are already those who do it.
Q: If I correctly understand, everyone who has a home-osmosis system can use MiniGenesi with your remineralized waters?
A: It is correct, if the system performance is suitable.
Q: In your factory, do you also produce the equipment?
A: We could do it, but we decided to sign a long-term agreement with the Celli Group, one of a world leaders in the construction of beverage dispensing systems, which then produces these 3 devices. In our factory, we continue to develop innovative technologies and to build prototypes and then decide whether to produce them directly or to offer them to potential partners.
Q: Besides the re-mineralized waters, what are the other VIVA drinks?
We have food supplements with specific minerals suitable for particular uses, for example the "Ageless" with zinc, selenium and iodine. As is known, these minerals contribute to maintaining a normal function of the immune system and to protect cells from oxidative stress.
We also have a product line dedicated to single minerals that can be added to any water or drink, in a controlled dose. Single minerals are Calcium, Iodine, Magnesium, Potassium, Selenium and Zinc. But our flagship is the natural aromatic waters.
A careful selection of hydrolates obtained by steam distillation of flowers and fresh aromatic plants, using a traditional and conservative method to preserve intact their properties.
With an intense fragrance and a distinctive taste, each aromatic water has a particular imprint that defines it, making it unique, special and unmistakable. All these beverage lines have no preservative, no sugar and therefore zero calories.
Q: As waters and drinks are concentrated, there is also a saving of space and stocks.
A: Not only, but mostly of plastic, with a substantial reduction of the environmental impact.