MTH confirms itself as a leading player in the industrial and commercial refrigeration industry, consolidating its international leadership position
For more than 80 years, the company has been offering customized and specific solutions for the needs of its customers, mainly in the Horeca, large-scale retail, conservation, vending and medical sectors. MTH exports over 70% of its production to 70 countries worldwide and operates directly in Europe, the Middle East and Africa, with production and distribution units also in South America, China, India, Malaysia and Singapore, to better serve local markets.
The next opportunity to appreciate the wide range of products offered by MTH will be during its participation in Host 2023, where the company will present a selection of state-of-the-art solutions capable of embracing the entire refrigeration chain at 360 degrees. These will include hermetic refrigeration units, monoblocs for refrigerated cabinets and tables, silenced units, compressors and refrigeration accessories, as well as complete mini cold rooms.
MTH's product range is completed with the historical thermo-insulating doors for commercial and industrial applications and more than 800 door components and accessories, used both in MTH's finished products and by manufacturers all over the world. These components are produced in-house by MTH in order to guarantee high 'Made in Italy' quality standards by controlling the entire value chain.
Special attention is paid to the design of customised solutions for specific customer needs, thanks to the constant strengthening of the Research and Development department.
The introduction of specialists in Application Engineering, both for doors and refrigeration systems, also allows MTH to offer dedicated consultancy in product selection and design, as well as technical training, assistance and supervision during testing and installation.
The company also stands out for the development of products with reduced environmental impact and greater energy efficiency. In fact, MTH has been a forerunner in the adoption of the new environmentally friendly refrigerant gases (R290 and R600), an important step that has also required action on the part of manufacturers to adapt their products: MTH, thanks to its profound experience, is able to support its customers in this transition towards more sustainable solutions. MTH has also developed compact monoblocs for refrigerated cabinets and low energy solutions, also through the use of variable speed compressors and electronic fans.
The company's choices in the field of sustainability also include investment in renewable energy, with the installation of a photovoltaic system in the Almese plant to produce the energy necessary for production and offices, and the careful selection of materials with which MTH works daily, using for example a more sustainable polyurethane foam, free of the fluorinated gas R452. The strengthening of MTH's position as a leader in the refrigeration sector also passes through important M&A operations, such as the acquisition of Foris index, a leading Italian company in the production of doors for industrial cold rooms, in April 2023.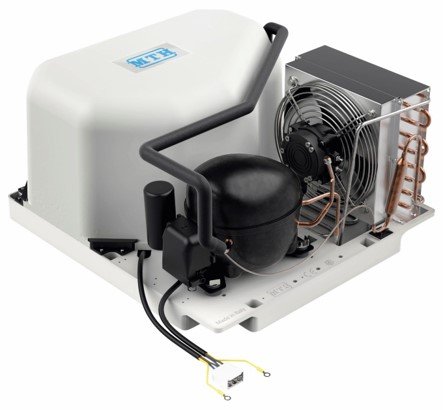 This is an operation of strategic importance because it allows to exploit the relevant industrial synergies between MTH and Foris Index and to expand the portfolio with new products, enabling the Group to consolidate its commercial presence also in new markets. The operation is part of a development plan that aims to build an Italian champion capable of competing with the major players in the sector on an international level, also thanks to future aggregations of realities of excellence in Italy, and to meet increasingly high quality and sustainability standards.
Foris Index, founded in 1964 in Conselice (RA) by the Berardi family, specialises in the production of doors for cold rooms used in large industrial warehouses and in the agricultural, fruit and vegetable and meat sectors. The company boasts solid experience in the production of high-tech and innovative products. With a consolidated presence both in Italy and in the main European countries, Foris Index has experienced steady growth in recent years, reaching a turnover of €8 million in 2022.
Luigi Canova, President and CEO of MTH, commented enthusiastically on the transaction, calling it the most significant in the company's history. The company's goal is to become the leading manufacturer of refrigeration doors in Italy, consolidating its global leadership position for an even more promising future in industrial and commercial refrigeration.