Pedrali signs the furnishings of an open-air museum
A marvelous garden, exclusive works of art, aromatic plants and water lilies: this is the picturesque setting where the project by Stones and Walls architectural studio was born – a new restaurant at the Goulandris Museum of Natural History in Athens.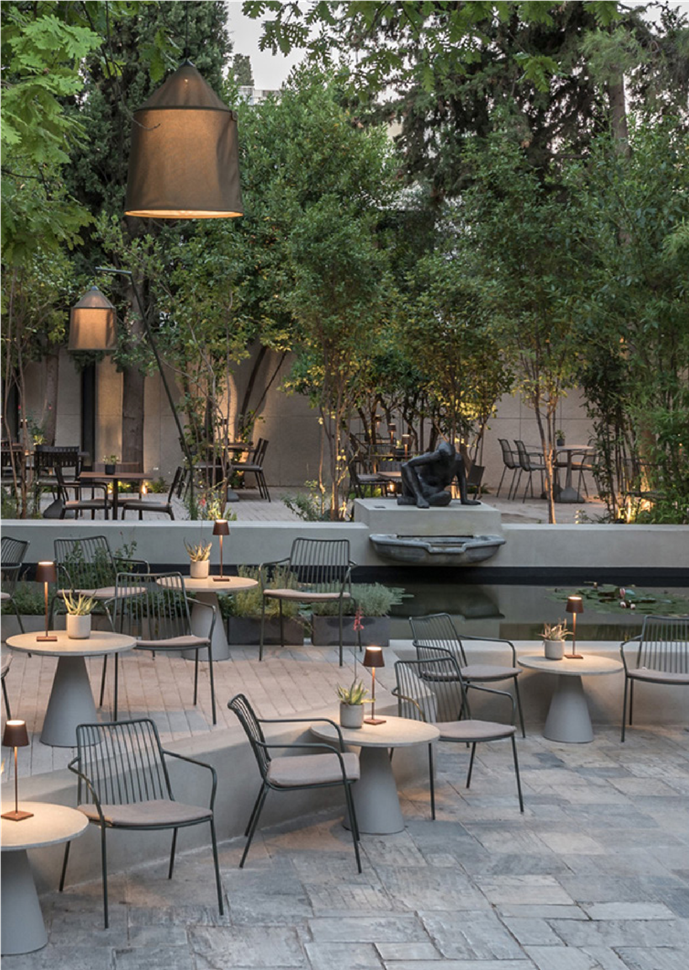 The Natu Restaurant seems to be a direct continuation of the museum's experience and was created to stimulate the senses and enhance every aspect of the guests' experience, from a creative and Mediterranean cuisine to a contemporary and fresh environment.
Among the natural materials of the indoor rooms and the outdoor garden, and the colour palette that recalls the colours of the earth, the interior design furniture of the Bergamo-based company Pedrali fits in.
The simple and iconic shapes of the chairs, armchairs, stools and tables come from Mario Pedrali's historical design begun in 1963 when he created his first metal garden chair.
The complements of the Nolita series, made entirely of steel, bring out all their outdoor character and evoke a timeless atmosphere of a sunny and lively Italian square.
Nolita chairs and armchairs are combined with two collections of tables: the Ikon series, designed by Pio and Tito Toso, expresses simplicity and cleanliness, while the Concrete tables, with their concrete base, convey a feeling of stability and durability.
Since the 1960s, Pedrali has been producing furniture for the contract and the residential world, which is the result of careful research to create functional and versatile industrial design products.
They develop solutions that combine tradition and innovation, engineering excellence and creative genius.
The experimentation of production technologies, the use of diversified materials and the collaboration with many designers have allowed the company to achieve prestigious national and international awards.
For the Natu Restaurant in Athens, Pedrali's aesthetic excellence and craftsmanship expertise have created a pleasant and relaxing space where you can take a break on a hectic day or at the end of your visit to the museum.